CI Pavement has a long history of working with many of the local Independent School Districts in the greater Dallas/Fort Worth area on all of their pavement needs.  This includes everything from the standard power washing in preparation and restriping to new striping layout, pavement repairs, new pavement construction and seal coating.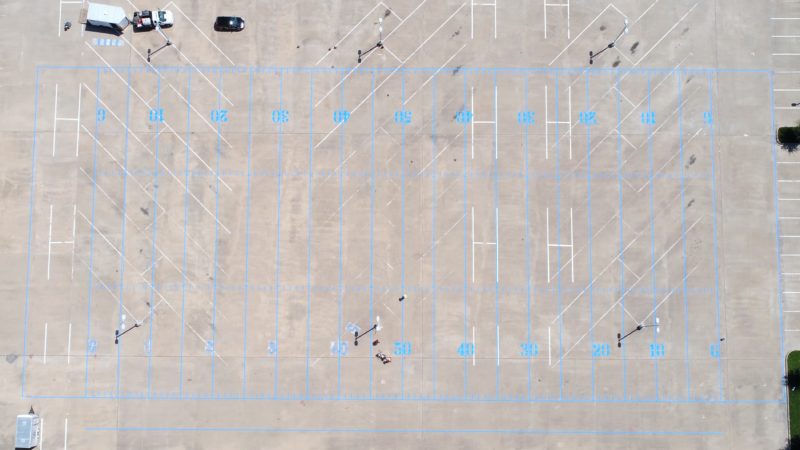 We worked with Keller ISD, well known for their superiority in the class room and on the sporting fields, to design, layout and stripe their new band practice football layout.  The existing practice area was located directly within a general parking lot and the struggle was continuous to try and have the area vacated once practice began. They elected to move the striping to a stadium overflow parking lot which would only be used while the band was in action, thus eliminating the conflict between parking and marching.
Since the overflow parking lot striping was already white, the color blue was chosen to help the markings stand out and mitigate traffic confusion when the lot was being used for standard parking procedures.  All football markings were applied, including yard markers, hash marks, end zone lines and 48" number stencils. Due to the nature of marching, the specific detail and location of the stripes is paramount and we ensured that all dimensions were exact.  Within a day, the entire project was completed and the band had the ability to practice free of vehicular impedance or traffic concerns.
Due to their noted excellence, the Keller Indian Marching Band was selected as the only band in the state of Texas to march in the 2018 Macy's Day Parade in New York City.  We're not saying there is a correlation between their success and the striped practice fields they honed their craft on, but we're glad we did our part to keep the tradition marching!
Contact us today for all of your striping, restriping or layout needs!